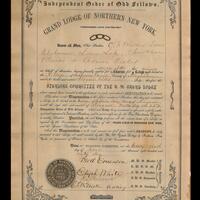 A collection of 19th and 20th century records relating to the Sacarissa Lodge of the Independent Order of Odd Fellows fraternal order.
This collection contains two anniversary editions of the Gazette and Farmers' Journal, a newspaper published in Baldwinsville, NY beginning in 1846.
Photographs and ephemera relating to Lakewood, New York in the early 20th century.