History of the Village of Lakewood
Cover Image: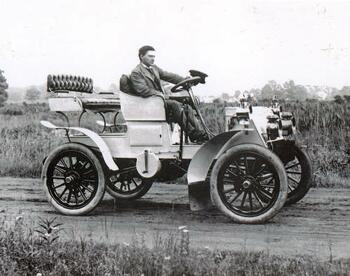 Collection Facts
Dates of Original:
c. 1900 - 1915; c. 1920 - 1933
Historical Context
The Village of Lakewood rests on the shores of Chautauqua Lake in southwestern New York where "its pure, deep, clear water comes almost entirely from underground springs...and the atmosphere possess a freshness and a braciness born of contact with the undulating waves of the cool waters of the lake" (Source: The Kent and cottages ... the Waldmere and cottages, Lakewood, N.Y., n Lake Chautauqua, 1897)
This primarily pictorial collection of 67 items explores the development of the village from a small farming community to a renowned health and leisure resort and looks at the more intimate side of the town. The collection brings together images and information about the glamorous people and places of Lakewood, as well as the everyday charm of its citizens, schoolchildren, local eccentrics, benefactors, and heroes.
The late 1870s saw the beginning of Lakewood's blossoming when lakeside cottages and summer homes were constructed near Sterlingworth Hotel by its owners. Throughout the late 19th century and the early 20th century, Lakewood's train station brought vacationers to the fashionable resorts, hotels, and summer homes of Lakewood. The civil side of Lakewood also saw growth and development during these years. Highland Avenue School was constructed in 1893. The small schoolhouse maintained classes for students from primary through high school. A brand new high school was then constructed in 1924. Citizens also enjoyed recreational activities such as skating in the winter and parades in the summer.
This collection highlights Lakewood's summer resorts and hotels; class photographs from as early as 1900, covering grade school through high school; as well as photographic and textual selections from various school publications, recreational activities, and the fire department. It also includes images relating to the Packards and the Sorgs, two famous and wealthy families of Lakewood whose legacies left an indelible impact still seen today.
By digitizing these items, the recently established Lakewood Historical Museum hopes to showcase how influential their small village is in the history of Western New York. Their hope is that through their collections, residents and future residents will always have tangible records of their beloved community. Lakewood residents old and new are learning firsthand how wonderful it is to be part of an established historic community.
For more information on both the history and the current vitality of Lakewood, take some time to visit Welcome to Lakewood, NY or Lakewood, NY - History.
Scope of Collection
The collection includes many photographs, primarily from the early 20th century. There are also some booklets and related ephemera. Many of the photographs are class pictures from Highland Avenue School. There are also photographs of notable residents and area landmarks.
---
Browse within this collection
Additional Information
Scope and Content Source:
Browse similar collections