Nioga Library System - Lewiston Public Library
Logo:
Parent Organization: Nioga Library System
305 S 8th St.
Lewiston, NY 14092
Phone: (716) 754-4720
Fax: (716) 754-7386
About
The mission of the Lewiston Public Library is to enrich lives by meeting the informational, educational and recreational needs of the community through a variety of resources and outreach programs.
The Lewiston Public Library began in 1901 when the Men's Club of Lewiston held a New Year's Party and asked each person in attendance to bring two books. Vice President Theodore Roosevelt, invited but unable to attend, sent an autographed copy of his book on Oliver Cromwell. This book is still on display in the Local History Room. When the new Library was dedicated in 1991, former U.S. Presidents Ford, Carter, Nixon, and Reagan sent autographed copies of their books to add to this collection.
Chartered as a Free Library in 1902, support was maintained by public subscription with members of the Lewiston Service Guild collecting door-to-door for operating funds. As Library use increased, the Trustees recognized that a dedicated source of funding was needed to maintain standards and allow for continued growth. In 1976 this funding was secured with the approval of a Public Library Charter and the Library is now supported by tax dollars.
The Library has been housed in several buildings in the historic village, eventually finding a permanent home when the present structure was built, in 1990, at 305 South 8th St. The children's wing was added in 1999.
Nioga Library System - Lewiston Public Library contributes through the membership of the Nioga Library System.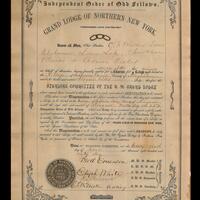 A collection of 19th and 20th century records relating to the Sacarissa Lodge of the Independent Order of Odd Fellows fraternal order.