Early Canastota Business Collection
Cover Image: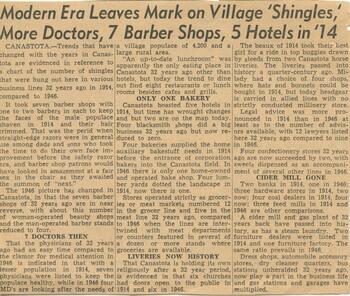 Collection Facts
Dates of Original:
c. 1880 - 1940
Historical Context
The Village of Canastota is located in Madison County, New York. It was originally inhabited by the Oneida Nation and later settled by Europeans. Captain Reuben Perkins was the original founder in 1810, and the village was formally established in 1835. A portion of the Erie Canal ran through Canastota and had a major impact on the village's development. The Erie Canal, part of the New York State Canal System, officially opened in 1825. It connected all areas of New York State, including New York City to areas in Upstate New York and to the Atlantic Ocean. It was a major source of travel and trade in the nineteenth century. Because of its location on the Erie Canal, Canastota became a prosperous area for trading, commerce and agriculture during the mid-nineteenth century. Early businesses in Canastota included The Canastota Bee Journal (1889 - 1921), Canastota Savings and Loan Association, glass manufacturing factories, hotels, and barbershops.
Scope of Collection
The Early Canastota Business Collection contains documents and newspaper clippings about the first businesses in Canastota.
---
Browse within this collection
Additional Information
Scope and Content Source:
Browse similar collections