Hudson River Night Boat Collection
Cover Image: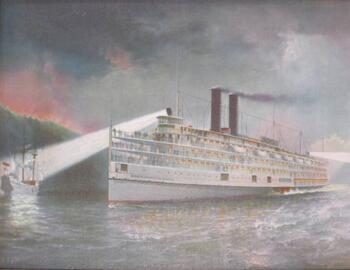 Historical Context
From their earliest days, Hudson River steamboats ran at night as well as during the day. Although not a numerous as their daytime counterparts, night boats quickly became popular, especially with businessmen who wanted to travel between New York and Albany without missing daylight working hours. Smaller night boats carried cargo—mostly food products, including milk—to New York City from upriver ports as well as transporting some passengers.
By the 1860s, night boats had become large, elegant vessels favored by wealthy New Yorkers. They featured crystal chandeliers, gilded woodwork, elegant dining rooms with fine cuisine, live music, and beautifully decorated staterooms. Saratoga, an elegant spa town, attracted passengers who took night boats to Albany, then traveled to Saratoga by train. Taking the night boat had become the fashionable way to travel between New York City and Albany. Honeymooners regularly chose the Albany Night Boat, a practice that continued to the end of the night boat era.
In the twentieth century, the Hudson River night boats fell into a steep decline. By the 1930s, neglect, the Great Depression, and changing transportation options caused the night boats to lose not only their previous wealthy passengers but also their glamorous reputation. The last Albany Night Boat made its roundtrip voyage from Manhattan in January 1941.
Scope of Collection
This collection consists of images of the Hudson River night boats.
---
Browse within this collection
Browse similar collections