This is a collection of personal memorabilia and published works related to John Burroughs, donated in 1955 by Miss Ethelwynn Doolittle.
This collection contains letters written by Captain John McConihe to his business partner, John B. Kellog.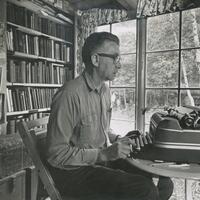 A collection of photographs, pamphlets, letters, and other materials highlighting 20th century citizen political activism, grassroots conservation, daily life, and outdoor recreation in the Adirondacks in New York State.