Cover Image: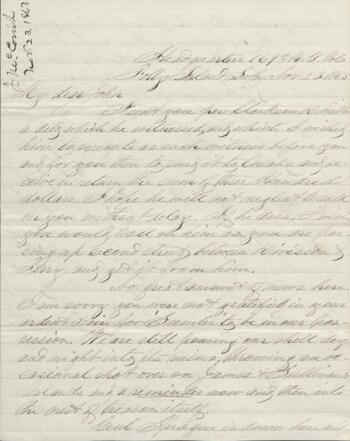 Collection Facts
Dates of Original:
1862-1864
Historical Context
Captain John McConihe was born on September 4, 1834 in Troy, New York to Hon. Isaac McConihe, a prominent lawyer, and Sarah Strong McConihe. Beginning at the age of 16, McConihe studied at Union College in Schenectady and graduated in 1853. For a few months, he studied law with his father before attending Albany Law School. He graduated in 1855. McConihe then established a successful law practice in Troy. Probably due to the influence of his friend, John Newton, McConihe developed an interest in the West and moved to the Nebraska Territory in 1857. McConihe settled in Omaha. In addition to having several business ventures such as land speculation, he also was involved in local politics in Nebraska. He held several positions including private secretary to territorial governors, William A. Richardson and Samuel Black, Notary Public and Master in Chancery.
McConihe joined the First Nebraskan regiment at the outbreak of the Civil War and was appointed Captain of Company G. He was wounded in the shoulder during the Battle of Shiloh in Tennessee on April 6-7, 1862. He returned to Troy to recover but also traveled to Cincinnati and Washington D.C. during his recovery. While in Troy, he transferred to the 169th New York Company. He was appointed Lieutenant Colonel. McConihe was killed in action on June 1, 1864 at Cold Harbor. His funeral was held in Troy and he was buried in Oakwood Cemetery in Troy.
Scope of Collection
This collection contains primarily letters written by Captain John McConihe to his business partner, John B. Kellog. The letters date from April 1, 1862 to May 21, 1864. The letters give descriptions of military maneuvers, people and places he encountered during his military service, camp life, his finances, his duties as an officer, his health and his recovery from a shoulder wound sustained at Shiloh. There are some receipts that detail purchases he made during his military service. The collection also contains a carte-de-visite or small photograph of McConihe and one of his calling cards.
There are five newspaper articles in the collection. These articles give detailed accounts of McConihe's death and funeral as well as provide some biographic information.
---
Browse within this collection
Additional Information
Scope and Content Source:
Browse similar collections