Woodstock Public Library District
Logo:
5 Library Lane
Woodstock, New York 12498
Phone: 845-679-2213

About
The mission of the Woodstock Public Library District is to encourage free and open access to information, in all its forms but especially printed materials such as books; facilitate lifelong learning and the stimulation of ideas; celebrate the rich history of Woodstock as the Colony of the Arts; and provide opportunities for creativity and community engagement. The library is a community hub which evolves in response to changing needs and offers the latest in technical, intellectual, and cultural resources.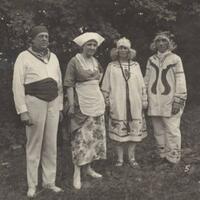 Photographs and ephemera from the 1920s Maverick Festivals.
Photographic portraits of musicians who performed at The Maverick.
Programs from the long-running Maverick Sunday Concert Series.