Maverick Festival Collection
Cover Image: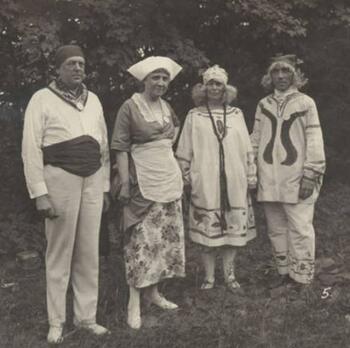 Historical Context
The Maverick Art Colony was founded in 1905 by by Harvard graduate turned social activist, author, idealist and bohemian, Hervey White, when he and Fritz van der Loo purchased a farm in the Hutley Patentee Woods. Hervey envisioned the farm becoming a new art colony, where the old restrictions on individual freedoms would be put aside. Hervey's creed for the Maverick colony was simply put, "Do what you want to (as long as you don't harm others)."
The short geographic distance between Greenwich Village in New York City and Woodstock in upstate New York, brought artists, musicians, social reformers and intellectuals to Woodstock. Life quickly became more unconventional and bohemian, as viewed by the more conventional Woodstockers. Feelings of unfriendliness between the locals and the newcomers intensified. Hervey believed that he could placate the local residents by providing musical performances, and at first, chamber music was performed for a small fee in Woodstock's Fireman's Hall. The audiences grew rapidly and it became apparent that people were willing to pay to hear the well played classical chamber music. Hervey began to look for a suitable concert hall, hoping it could be found at his Maverick farm.
By 1915, summer residencies at the Maverick Art Colony increased to more than twenty-five cabins, and so did the need for water and creature comforts. After having a well drilled an astonishing five-hundred and fifty feet deep, Hervey was faced with a bill for fifteen hundred dollars, far more than he expected. Plans to raise money for paying this bill turned into the organization of the first Maverick Festival.
Using available resources, Hervey and friends converted a stone quarry on the Maverick property into an open-air theater. Seating, a stage and an orchestra pit were built and picnic grounds are where the present Maverick Concert Hall stands and the long running Maverick Summer Concert Series performances are still held today. Hervey viewed the Maverick Festivals as an opportunity for all people, whether involved in the arts or not, to share in the festival pageantry, wearing fantastic costumes, picnicking around campfires, and enjoying numerous performances.
Scope of Collection
This collection features photographs and ephemera from the 1920s Maverick Festivals.
---
Browse within this collection
Browse similar collections