Steuben County Historical Society
Logo:
1 Cohocton Street
Bath, New York 14810
Phone: (607) 776-9930

About
The Steuben County Historical Society, Dugald Cameron Chapter, was chartered by New York State in 1964. The Society is housed in the Magee House, Steuben County History Center, in Bath, the Steuben County Seat.  
The SCHS was established to preserve the record of human endeavor in this part of New York's southern Tier for the enjoyment and edifications of its people and those generations yet to come.
The Society's mission is to collect, catalog, and preserve the historical artifacts, archival items, books and other published material relating to the history of Steuben County. The Society seeks to make its collections relevant to the public through exhibits, lectures, school class visitations, special educational events and publications.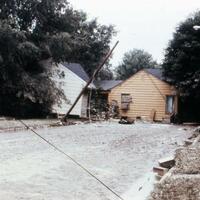 Photographs of the flooding through Steuben County in June and July of 1972 after the heavy rains of Hurricane Agnes.
A ledger showing the business affairs of the Land Agency for the early settlement of Steuben County and "Pulteney's Land" in the Genesee.
Photographs of migrant workers from the 1940s and 1980s, some of which were taken by other workers for a photography exhibit.