Tompkins County Schoolhouse Photos
Cover Image: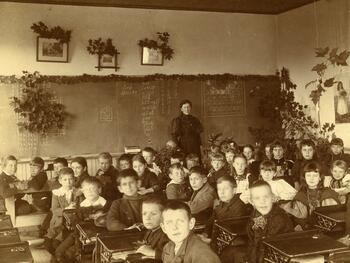 Collection Facts
Dates of Original:
1865-1963
Historical Context
Schools are and always have been the main social enterprise of any community. This centrality is illustrated by New York State's directive to ensure that adequate funding be put aside for the establishment of schools when Tompkins County was first formed in 1817. These hubs of learning were scattered throughout the county; many were small one-room buildings placed in or near villages, hamlets and other population centers. Classes were often mixed, with older students sharing space, teachers, and resources with their younger sisters and brothers. It wasn't until the mid-20th century that districts consolidated and small village schools were closed. Tompkins County and communities throughout the state established the modern public school system that we know today.
Scope of Collection
This collection includes black and white photographs of Tompkins County school buildings, classes, and assorted groups. The work of many different, mostly unknown photographers, these images range from small 19th century one-room school houses with a scattering of students, to large class groups of hundreds of students in mid-20th century public schools.
---
Browse within this collection
Additional Information
Scope and Content Source:
This archival collection was made possible by a major grant from the National Endowment for the Humanities CARES Act funding. Any views, findings, conclusions, or recommendations expressed in this collection do not necessarily represent those of the National Endowment for the Humanities.
Browse similar collections