Stereographs of New York State
Cover Image: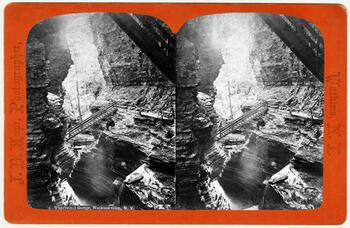 Collection Facts
Dates of Original:
1850-1910
Historical Context
A stereograph, in which two nearly identical images are printed side by side. They could be viewed in a special viewer, causing an illusion of three-dimensionality.  
Scope of Collection
Hundreds of stereographs, focusing in particular on the natural beauty of Watkins Glen, Havana Glen (now Montour Falls), and the gorges and waterfalls around Ithaca, New York. 
---
Browse within this collection
Browse similar collections