Film Collection - Palisades Interstate Park Commission
Cover Image: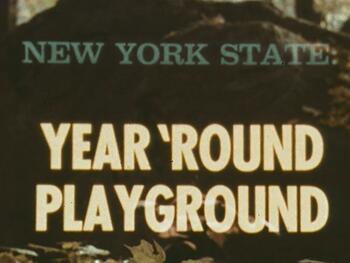 Historical Context
The Palisades Interstate Park Commission has a long and storied history. Since its establishment at the dawn of the twentieth century by governor of New York Theodore Roosevelt and governor of New Jersey Foster Voorhees, the Commission has come to oversee approximately 125,000 acres of public parkland that comprise 30 parks and historic sites including Palisades Interstate Park, Bear Mountain, Harriman, Minnewaska, and Sterling Forest State Parks as well as Washington's Headquarters State Historic Site, the Purple Heart Hall of Honor, and Senate House in Kingston. These parks and historic sites are world-class recreation areas that have provided opportunities to recreate and learn to families from around the world for generations. The PIPC is one of the nation's first agencies created solely for the preservation of natural and scenic features, predating America's own great National Parks Service by 16 years.
Over the 123 years since its founding, PIPC has kept diligent records and sought to publicize their history on film. These motion pictures are living time capsules, treasure troves of information that provide a rare glimpse into the fascinating world of twentieth century America. The legacy of the Palisades Interstate Park Commission is intertwined with that of America itself, being at the forefront of the land preservation, public recreation, and environmental conservation movements during the gilded era and beyond. The land now occupied by Bear Mountain, Harriman, and Palisades Interstate Parks were the focus of monumental effort during the Great Depression to provide economic relief via jobs building infrastructure and restoring our environment. Its picturesque vistas were an escape from reality for the working-class families of New York City and an inspiration for the artists of the Hudson River Valley School. It also served as the standard for countless parks to come, acting as the blueprint for the development of the Appalachian Trail and greeting some 11 million annual visitors at its height.
Scope of Collection
The Palisades Interstate Park Commission's film collection consists of 16- and 32-millimeter film reels, which have been scanned and remastered to meet modern standards. These films cover everything from plays acted out by Boy Scout troops to President Franklin Delano Roosevelt's visit to Bear Mountain with his wife, First Lady Eleanor Roosevelt. Many of the films are silent, but some of the later examples from the 1960s and 70s contain music and dialogue. The films are in the process of being catalogued and as more reels come to light, they will be added to this collection.
---
Browse within this collection
Browse similar collections