Stereograph Card Collection of Geneva
Cover Image: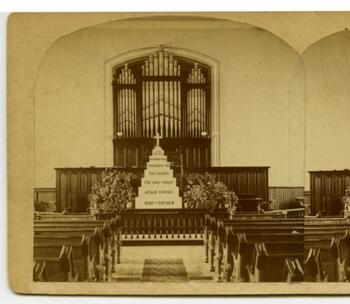 Collection Facts
Dates of Original:
c. 1860 - 1880
Historical Context
James Gardner Vail (1842-1929) was a photographer in Geneva, NY. These are predominantly his works, though there are other photographers included. These stereograms (precursors of the common ViewMaster stereoscopes and "reels", which are thin cardboard disks containing 3-D versions of a view) are inserted into a viewer held in the hands. They generally have a standard format, and enjoyed several waves of popularity from the 1850s to the 1930s as a home entertainment medium. Typical stereograms provide each eye with an image seen so that it appears larger and more distant and usually also shifts its apparent horizontal position, so that for a person with normal binocular depth perception the edges of the two images seemingly fuse into one "stereo window". Nearly all these stereograms deal with Geneva, New York in the late 19th century and show a wide range of buildings, scenes, people, and activities.
Scope of Collection
The collection consists of stereograph images of the Geneva, New York region from the late 19th century. Views include: buildings, street scenes, portraits, churches, and outdoor scenes.
---
Browse within this collection
Additional Information
Scope and Content Source:
Browse similar collections