Rochester Public Library Local History Division Map Collection
Cover Image: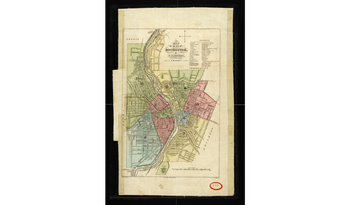 Collection Facts
Dates of Original:
1827-1984
Historical Context
The map collection at the Rochester Public Library's Local History & Genealogy Division provides a broad cartographic understanding of the history of Rochester, New York and the surrounding region.
Scope of Collection
The Rochester Public Library is home to an extensive collection of local and regional maps. The maps included in this digital collection were selected from the physical collection due to their importance to the history of Rochester, their frequent use in research and/or their unique nature. The collection includes maps ranging from early manuscript works to folding street maps to bound plat atlases. Maps in the collection date between 1827 and 1984.
---
Browse within this collection
Browse similar collections