Logo:
Department: Local History and Genealogy Division
115 South Ave.
Rochester, NY 14604
Phone: 585.428.7300

About
The Rochester Public Library is a system of eleven libraries (the Central Library in downtown Rochester and ten urban neighborhood branches) serving as a vital resource to the Western New York region. Our libraries foster life-long learning, personal enrichment, and prosperous communities.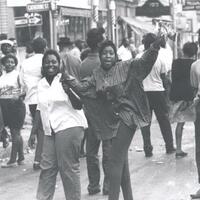 This collection of images documents Rochester's 1964 race riots, offering a vivid and revealing glimpse into Rochester's, and the nation's, past.
The City Hall Photo Lab Contemporary Collection contains images depicting official City events and programs and documenting public works services and projects in Rochester between 1982 and 2010.
This collection includes city directories from Rochester, NY, with information about the people and businesses within the city. Includes three maps of the city of Rochester.