Logo:
Department: Local History and Genealogy Division
115 South Ave.
Rochester, NY 14604
Phone: 585.428.7300

About
The Rochester Public Library's Local History and Genealogy Division boasts one of the premier collections of local historical and genealogical materials in western New York. Original materials in the collection are restricted to use within the library, but for more than a decade the library and its partners have sought to improve access to unique historical resources by digitizing photographs, books, manuscripts, maps, directories, postcards, and other items held within selected local collections in Monroe County. The items available on New York Heritage are just a small portion of the library's digital collection. To learn more, visit www.libraryweb.org.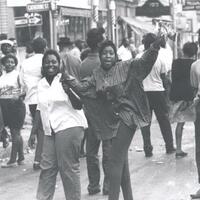 This collection of images documents Rochester's 1964 race riots, offering a vivid and revealing glimpse into Rochester's, and the nation's, past.
This collection includes city directories from Rochester, NY, with information about the people and businesses within the city. Includes three maps of the city of Rochester.