Quick links:
Metadata Dictionary & Collection Development
Marketing Materials
Legal Issues and Resources for Digitization
Technical Guides & Help
New York Heritage is administered regionally by the participating Empire State Library Network councils. For eligibility information and instructions about how to join the New York Heritage project, please refer to your local council. A staff member from your library council will serve as your local administrator.
 
Capital District Library Council (CDLC)
Counties: Albany, Fulton, Hamilton, Montgomery, Rensselaer, Saratoga, Schenectady, Schoharie, Warren and Washington
Contact: Susan D'Entremont
Central NY Library Resources Council (CLRC)
Counties: Herkimer, Madison, Oneida, and Onondaga
Contact: Ashley Beavers
Long Island Library Resources Council (LILRC)
Counties: Nassau and Suffolk
Contact: Nicole Menchise
Metropolitan NY Library Resources Council (METRO) 
(Digital Culture of Metropolitan New York)
Counties: Bronx, Kings, New York, Queens, Richmond, Westchester
Contact: Nate Hill
Northern NY Library Network (NNYLN)
Counties: Clinton, Essex, Franklin, Jefferson, Lewis, Oswego and St. Lawrence
Contact: Lydia Willoughby
Rochester Regional Library Council (RRLC)
Counties: Livingston, Monroe, Ontario, Wayne and Wyoming 
Contact: Ryan Hughes
South Central Regional Library Council (SCRLC)
Counties: Allegany, Broome, Cayuga, Chemung, Chenango, Cortland, Delaware, Otsego, Schuyler, Seneca, Steuben, Tioga, Tompkins, and Yates
Contact: Claire Lovell
Southeastern NY Library Resources Council (SENYLRC)
Counties: Columbia, Greene, Ulster, Dutchess, Orange, Sullivan, Putnam and Rockland
Contact: Jennifer Palmentiero
Western NY Library Resources Council (WNYLRC)
Counties: Cattaraugus, Chautauqua, Erie, Genesee, Niagara, and Orleans
Contact: Jay Barone
Metadata Dictionary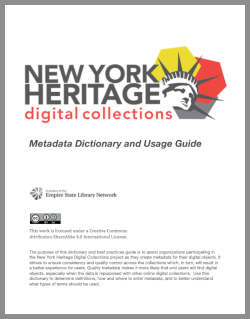 Metadata is the descriptive information (like information in a traditional library catalog) about items in New York Heritage. New York Heritage has established a template and best practices guide with a dictionary for our contributors to follow. Having consistent, accurate metadata will allow users to effectively search and browse the collections.
NYH Metadata Dictionary and Usage Guide (PDF)
CDLC members may receive enhanced information from: Appendix F for the NYH Metadata Dictionary 
Collection Development Policy
New York Heritage welcomes materials covering a broad range of topics.  Our collection development policy outlines broad guidelines on the materials we will accept from our contributing organizations.
NYH Collection Development Policy (PDF)
Exhibit Creation Policy & Guidelines (PDF)
We highly encourage partner organizations to advertise and link to the materials they have contributed to New York Heritage.  Linking to your organization's landing page can highlight your presence in the repository.  We also have New York Heritage logo files and promotional materials available. 
Sample text for contributor website:
New York Heritage Digital Collections includes over 400,000 digitized books, manuscripts, maps, letters, photographs, and memorabilia. New York Heritage is your access to big stories and small affairs spanning the history of New York. Discover your history with contributions from over 430 libraries, museums, archives, and other community organizations. Find [Name of organization]'s digital collections. [link to your organization's landing page].
NYH Logo files
Physical Promotional Materials
New York Heritage Brochure (PDF)

New York Heritage Postcard
(5.5 x 8.5 inch - PDF)

New York Heritage Rack Card
(3 per page for printing on an office printer - PDF)
Whenever possible, the holding institution or repository provides all known information about copyright owners and other restrictions in the information, or metadata, associated with digital items. The holding institution provides this information to assist users in determining the copyright status of an item. New York Heritage also provides a general copyright information statement on its website for users.
The nature of historical, archival and manuscript collections often make it difficult to determine the exact copyright status of an item. There are many issues related to copyright. There are several resources on the Internet that can help you to determine the copyright status of the materials in your collections:
Digitization Vendors
List of vendors (Google Doc)
Help Sheets
Tab-Delimited File and Multiple Single Items (PDF)
Tab-Delimited File and Compound Objects: Documents, Postcards & Cubes (PDF)
CompoundTab-Delimited File and Compound Objects: Monographs (PDF)
CONTENTdm
Installation and User Support Center
Contact your local administrator for instructions and assistance with downloading and installing the CONTENTdm Project Client software.
The User Support Center (USC) is CONTENTdm's official help site. Go there to access help files for the Project Client and view community forums for CONTENTdm users. To access the USC, you must sign up for a user account. Contact your local administrator to obtain your Organization ID (required to create an account).
Using CONTENTdm
See RRLC's excellent guide to using CONTENTdm as part of New York Heritage Digital Collections.
CONTENTdm Help: Working with Projects
The first step in creating a project in CONTENTdm is to name the collection and select the correct metadata template. Once the metadata template is set up, continue to use the Project Client -- first to describe digital files and then to upload them to the web server. Use the Metadata Template for entering persistent metadata fields and their contents. Use Metadata Properties to automatically capture certain property about a file that you want to add to a field.
CONTENTdm Help: Metadata Templates
Set up Excel spreadsheets for single or compound item metadata (PDF)
Use templates in the Project Client to automate repeating metadata (PDF)
 
How to set image rights for a set of Digital Objects (Collection). Image rights can include banding, branding, or watermarking on each image.
CONTENTdm Help: Image rights
How to add a single or multiple items:
Use the Add Items feature to upload digital files, and Item Editing or Spreadsheet to enter descriptive information.
CONTENTdm Help: Add an Item
CONTENTdm Help: Adding Multiple Item
How to upload a postcard (compound object):
Compound Objects are constructed from individual digital files that are assembled together so as to be retrieved as a single object by end-users. Two-sided documents can be postcards, baseball cards, flyers, tickets, etc.
CONTENTdm Help: Compound Objects
Using OCR (Optical Character Recognition):
Document Compound Objects consist of the digital image files of scanned text pages that are matched one-on-one to each of their searchable transcript files. Please contact your Administrator or Library Council to obtain the OCR license to use this feature.
Working with PDF files:
Automatically convert PDF files into compound objects, create thumbnails from PDF files, and use full text extraction.
CONTENTdm Help: About Working With PDF Files
CONTENTdm Help: PDF Conversion
How to upload a document with transcript files:
Document Compound Objects consist of the digital image files of scanned text pages that are matched one-on-one to each of their searchable transcript files.
CONTENTdm Help: Transcript Files
Using the Compound Object Wizard to create Hierarchy (such as Table of Contents in a book):
How to reflect the structure of the monograph
CONTENTdm Help: Object List
Uploading Digital objects into CONTENTdm for Collection approval and Indexing:
Once data is entered into the metadata template in the Project Client, upload the items to the Pending Queue. Use the CONTENTdm Administration page to review, edit and approve uploaded items prior to publishing them.
CONTENTdm Help: Uploading Items to a Collection
CONTENTdm Help: Approving Items
Oral Histories
Recording Oral Histories for NY Heritage (PDF)
NYH Oral History Release Form (PDF)