The Register-Star's Bicentennial Edition
Cover Image: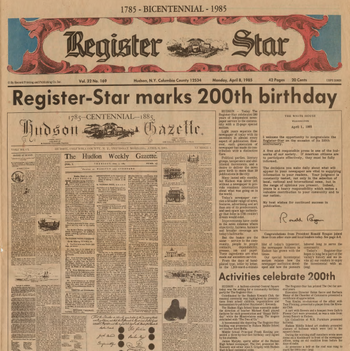 Historical Context
The Hudson Daily Gazette, the beginning iteration of the Register-Star newspaper, was first published April 1, 1785, weeks before the City of Hudson, New York's charter was delivered to Hudson. The Gazette was founded by Ashbel Stoddard, Hudson book publisher, and Charles Webster, who began his career on the nation's oldest newspaper the Connecticut Courant (now the Hartford Courant). At the time, news arrived by post rider from Litchfield, Connecticut, a major stop on the Post Road from Boston to New York. It also arrived in summer by sloop on the Hudson River and in winter by stagecoach from Albany.
In 1803, The Gazette discontinued publication due to competition with The Bee, which had started publishing in 1802. At that time it was purchased by the owners of The Bee. The Gazette then relaunched in 1824. In 1866, the Daily Evening Register began running in conjunction with The Gazette. This continued until 1931 when printing of The Gazette ceased. In 1953, the Daily Evening Register purchased another Hudson paper, the Hudson Daily Star, and became the Register-Star.
The paper was owned for many years by a branch of the Kennedy family who had moved to Hudson. From the late 1800s through the 1985 edition, members of the Kennedy family were part owners and publishers of the newspaper.
Scope of Collection
This 200th Anniversary edition of the Register-Star newspaper of Hudson, New York includes details of the history of the newspaper and other newspapers in the city. It also gives information on the owners and publishers of this paper and other newspapers in Hudson. In addition, the history of news gathering, typesetting, printmaking, delivery, and other aspects of the newspaper business are featured. Finally, also included are the historic events the newspaper was involved with during its years of publication including a case in which Thomas Jefferson accused newspaper co-owner and Federalist Harry Croswell of "maliciously and seditiously libeling." This case from 1803 helped form American libel law.
These images represent the newspaper that was originally published on April 8, 1985 in Hudson, New York. Permission to use and publish the digital copy of this edition has been granted to the Hudson Area Library History Room by Alec Johnson of Johnson Newspapers. This is a closed collection. For more information contact reference@hudsonarealibrary.org.
Browse similar collections