Red Hook Schools: 1870-1940
Cover Image: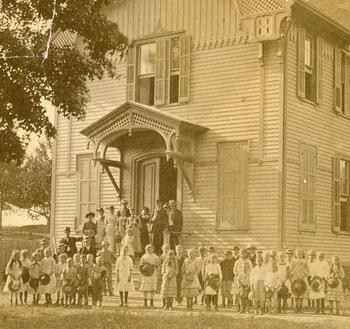 Collection Facts
Dates of Original:
1870-1940
Historical Context
When the Town of Red Hook split from Rhinebeck in 1812, it established eight public school districts, each with its own small schoolhouse serving first through eighth-grade 'scholars,' as students were then called. For those wishing to go beyond eighth-grade, there were only a few small private schools, such as the reputable Mountain View Academy in Upper Red Hook. In 1905, the Union Free School in Red Hook Village (District #4) was renamed the Red Hook High School and expanded to accommodate all the students from every district who wanted to go beyond the eighth grade. Students came from near and far, by train and wagon, and some even boarded with Village families for the winter term.
On April 2, 1936, the High School burned to the ground. Rather than rebuild it on the same site, the Red Hook School Board proposed centralizing all the district schools. By late 1937, voters in eleven school districts, including ten in Red Hook and Milan, and one in Clermont, Columbia County, overwhelmingly approved the plan. The Union Free School in the Village of Tivoli chose not to centralize. Its students were finally absorbed into the Red Hook Central School system in 1965.
On September 6, 1939, the handsome red brick building on Linden Avenue (known today as the Red Hook Middle School) was dedicated. Built with a grant from the Works Progress Administration, the new school was "designed to meet the requirements of the State Department of Education and provide a maximum of 969 pupil stations… sufficient to provide adequately for the needs of the district for many years to come." President Franklin D. Roosevelt had been scheduled to give the dedication address but on September 1, 1939 the Nazis invaded Poland, touching off World War II. Roosevelt stayed in Washington, D.C.
Scope of Collection
This collection includes 40 original photographs and postcards showing teachers, students and their 'one-room' schoolhouses throughout the Town of Red Hook before 1939 when the small school districts were consolidated and a new Central School was built. It also includes a searchable 20-page special supplement to the Red Hook Advertiser, published on August 31, 1939, in anticipation of the new school's dedication, celebrating the "new era in education" and memorializing each "country schoolhouse" that had "bowed to educational progress."
---
Browse within this collection
Browse similar collections