Maria College Digital Collection
Cover Image: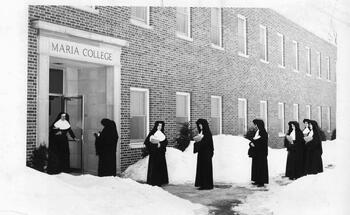 Collection Facts
Dates of Original:
c. 1600 - 2010
Historical Context
In 1958, the Religious Sisters of Mercy founded Maria as a Sister Formation and Liberal Arts college with a student body of 52. Today, they serve just over 1,000 students, men and women, who attend our day, evening and weekend classes, and are enrolled in their online course offerings. From its founding, the mission of the College has been to educate for service—service to the greater Capital Region and to the communities in which its graduates live and work. Although Maria was established to educate the Sisters of Mercy, the vision soon broadened with the College's first degree program with enrollment open to the community : Early Childhood Education. All degree programs were opened to coeducational enrollment in 1971, and today male enrollment accounts for more than 20% of Maria's student body.
Scope of Collection
This collection contains a selection of archival materials depicting Maria's early days, including the groundbreaking ceremony and blessing of the College, as well as historical photographs of faculty, students, board members, presidents, and local religious community leaders and politicians.
---
Browse within this collection
Additional Information
Scope and Content Source:
Browse similar collections