Justus F. Mueller PhD Papers
Cover Image: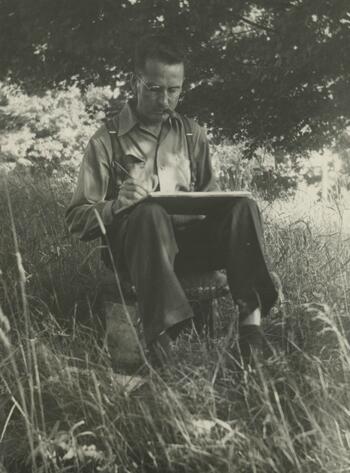 Collection Facts
Dates of Original:
1938 - 1976
Historical Context
Justus F. Mueller (1902-1993) was an American parasitologist known for the development of the Mueller-Ward Models. Born in Baltimore in 1902, he received a BA in Zoology at Johns Hopkins University in 1923. While at John Hopkins and shortly thereafter, he was a Scientific Assistant to the US Bureau of Fisheries at the upper Mississippi River; Ann Arbor, Michigan; and Woods Hole, Massachusetts. His background in art included studies at the Corcoran Art School and The Maryland Institute, and he held part-time jobs between 1923 and 1928 as an illustrator for the US National Museum, the US Bureau of Fisheries, and the Natural History Museum at the University of Michigan. In 1924, he became a research assistant to Henry Baldwin Ward at the University of Illinois, where he received a MA in Zoology in 1926 and a PhD in Zoology in 1928 after completing a thesis on microscopical anatomy and physiology of ascarids.
After receiving his PhD, Dr. Mueller moved to Syracuse to be a Field Naturalist and Instructor in Zoology at the Roosevelt Wildlife Station through the New York State College of Forestry, which is now known as the SUNY College of Environmental Science and Forestry. He obtained the rank of Assistant Professor in 1929 and Associate Professor in 1938, and, after 1930, he simultaneously served as a Lecturer in Parasitology at the Syracuse University College of Medicine. While at the Roosevelt Wildlife Station, he studied parasites in Oneida Lake fishes, and his research of cultivation in vitro and discovery of the sparganum growth factor started when he found Spirometra mansonoides, a pseudophyllid cestode, in local cats and its sparaganum larva in water snakes. He utilized his artistic background to partner with Ward's Natural Science Establishment, Inc. to create the Mueller-Ward Models, which covered 16 zoological subjects through 118 models.
Dr. Mueller left the Roosevelt Wildlife Station in 1943 to be an Associate Professor of Microbiology at Syracuse University. After SUNY acquired the Syracuse University College of Medicine, Dr. Mueller went on to become the Chairman of the Microbiology Department at SUNY Upstate Medical Center between 1954 and 1957 and a Professor of Microbiology between 1956 and 1972. His numerous publications included the widely circulated "Nature of Tropical Diseases," and he traveled extensively in Asia and Central and South America for his research. He was well-known in the field of parasitology after serving as the editor of the Journal of Parasitology between 1962 and 1978 and as President of the American Society of Parasitologists in 1973. Later in life, he continued to study the sparganum growth factor and received various honors, including a Scholar in Residence appointment by SUNY, an honorary membership to the Helminthological Society of Washington, and election as President of the American Society of Parasitologists. He received an honorary Doctor of Science from SUNY Upstate Medical University in 1991 and died on April 2, 1993 at the age of 90.
Scope of Collection
This collection contains photographs and scrapbooks from Justus F. Mueller that relate to his research and career as a Professor of Microbiology at Syracuse University and SUNY.
---
Browse within this collection
Additional Information
Scope and Content Source:
Browse similar collections