Cover Image: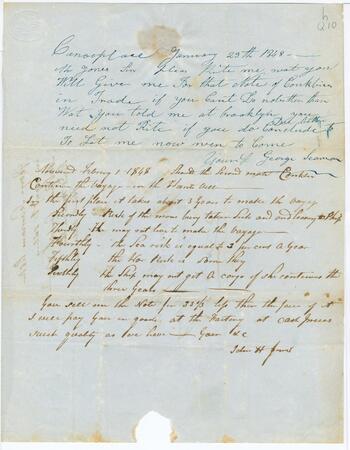 Historical Context
Cold Spring became a Customhouse in the Customs Collection District of New York in 1799. The customhouse was responsible for enrolling and licensing ships, at the time primarily for fishing and trading, and for clearing ships sailing from the port. Jacob Cole Hewlett held the post of Surveyor of Customs for over 20 years during the mid-nineteenth century including during its time as a whaling port. The port supported a variety of related trades in Cold Spring including a lumber yard, coopery, and two wharves.
In 1836 brothers, John Hewlett Jones and Walter Restored Jones, and 32 other local investors founded the Cold Spring Whaling Company. During its operation, the Cold Spring Whaling Company financed 44 voyages on 9 ships. John H. Jones was the principal agent for the company until it was disbanded in 1852. He coordinated the voyages by hiring whalers and outfitting the ships from his General Store in Cold Spring. Walter R. Jones recruited investors and located ships for the fleet using his connections as the president of the Atlantic Mutual Insurance Company. Amos and Samuel Willets, of the ship chandler shop A & S Willets, obtained stores and gear for the voyages and sold whale oil and bone on behalf of the Cold Spring Whaling Company.
Although the Cold Spring Post Office added "Harbor" to the town's name in 1826 to avoid confusion with the upstate New York town of Cold Spring, the residents of Cold Spring Harbor referred to the town as "Cold Spring" for the majority of the nineteenth century.
The Hewlett-Jones collection was assembled by descendants of the Hewlett and Jones families and donated to the Whaling Museum in 1971.
Scope of Collection
The Hewlett-Jones collection is made up of financial records for the Cold Spring Whaling Company and some of the licenses and enrollments from the Cold Spring Customhouse. The majority of the records refer to the Whaling Company's nine vessels: Monmouth, Tuscarora, N.P. Tallmadge, Richmond, Alice, Huntsville, Splendid, Sheffield, and Edgar.
---
Browse within this collection
Additional Information
Scope and Content Source:
Browse similar collections