Claire K. Tholl Hudson River Collection
Cover Image: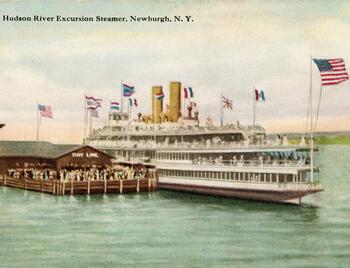 Historical Context
Claire K. Tholl (1926-1995) was an architectural historian, cartographer and naval engineering draftsman. Born in Hackensack, New Jersey Claire Koch Tholl studied engineering and naval designing at Stevens Institute of Technology from Cooper Union in 1947. She worked as a draftsman during World War 2 at Pensacola Naval Air Station, Florida. She moved into historic preservation and architectural history and over her career worked to preserve more than 200 stone houses in New Jersey. She was an early member of the Steamship Historical Society of America and retained her love of steamboats.  
Scope of Collection
This collection contains images from the Hudson River portion of the Claire K. Tholl collection. The collection includes postcards and photographs of steamboats, ships and ferries.
---
Browse within this collection
Browse similar collections