Hamilton Public Library Postcard Collection
Cover Image: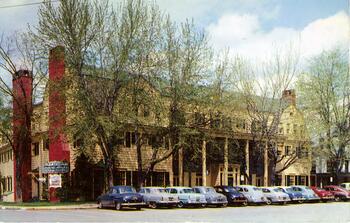 Collection Facts
Dates of Original:
c. 1910 - 1950
Historical Context
The village of Hamilton, chartered in 1812, was initially known as Payne's Settement in reference to the importance of Elisha Payne, a prominent local farmer, in the development of the village. Payne's Settlement experienced prosperity in part due to its connections to larger markets. The Skaneateles Turnpike, opened in 1808, offered a connection to western markets. From 1834 to 1878, the Chenango Canal linked Hamilton to the Erie Canal.
Heralding the growing importance of higher education in the region, Baptist Theological Society established the Hamilton Literary and Theological Institution in the village in 1819. In 1827, Elisha Payne's brother Samuel donated his farm to the theological institution, which changed later its name to Colgate University in 1890. The university has greatly influenced the development of the village, having a significant cultural and economic impact.
The Colgate Inn, located on Payne Street in the center of Hamilton, sits on the former site of the Park House inn, which had served guests for over one hundred years. Built in 1925 and currently owned by Colgate University, the inn offers forty guest rooms as well as a tap room.
Scope of Collection
The postcards in this collection depict various buildings and street views around the village of Hamilton, including numerous images of the Colgate Inn. The majority of postcards are blank, but a few have letters written on the back.
---
Browse within this collection
Browse similar collections