Finnish Community of Spencer
Cover Image: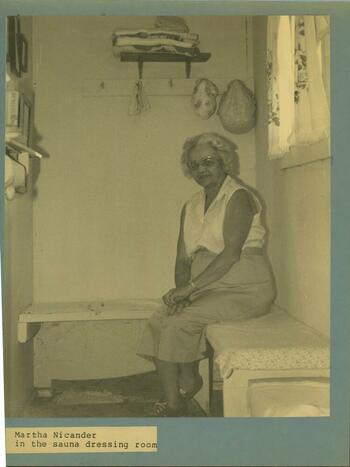 Historical Context
Spencer, a small town in Tioga County, had between 1,200 and 2,000 residents in the first half of the 20th century.  Many of those residents, and those in neighboring Van Etten, are of Finnish descent.  
A wave of Finnish emigration began in the late 1890s as Russia began an aggressive program of Russification in Finland.  Most of the 150,000 Finns who migrated to the United States settled in the upper midwestern states of Minnesota, Wisconsin and Michigan. 
From FingerLakesFinns.org:
"Joel and Katherine Pelto and their children, Edward, William, Lempi and Frank were the first Finnish family to settle in Spencer. In 1911 they moved to a farm on West Hill. The family came here from northern Minnesota where they had owned a homestead farm. Mr. Pelto and his older sons had supplemented the small farm income by working in the nearby lumber camps.
Joel Pelto had been lured here by Lehtonen's advertisement in a Finnish newspaper describing several good farms for sale at bargain prices. He traveled to Spencer to see them and liked what he saw.
Compared with northern Minnesota's colder climate, unclaimed land and distance from large markets, the prospects for a better livelihood in farming seemed much brighter in this beautiful area of New York State.
Soon after the Pelto family was settled on West Hill and farming operations were well under way, Joel and his eldest son Edward went into the real-estate business. There were many untenanted farms in the area which the owners were eager to sell. They advertised many bargain-priced farms they had for sale in the Finnish newspapers which were printed in every city with a sizable Finnish population. The property was described in the most glowing terms. It wasn't long before more and more Finnish people came to find new homes in Spencer.
When the emigrants from Finland came to the United States, most of them were first engaged in occupations they had no intention of continuing for the rest of their lives. These included work in the mines, steel mills, lumber camps and heavy construction. Those who had worked as skilled craftsmen also found they had to seek other employment as industries became more mechanized and the need for their skills no longer existed.
The advertisements of low-cost farms which appeared in the Finnish newspapers were of great interest to many subscribers. Owning land of their own now seemed possible. Most of the emigrants had grown up on farms and were eager to return to the freedom of country life, dear to all Finns.
After the new arrivals to the Spencer area had purchased their farms and had become settled, many replied to inquiries of relatives and friends regarding available farms.
Very few of the first Finnish people who settled here, came to Spencer directly from Finland. Most had previously lived in other areas of the United States where they had relatives or friends who had helped them find their first employment. Fairly large Finnish colonies had been established much earlier over a widespread area. The northern Midwest, New England, Pennsylvania, Ohio and the Metropolitan New York area provided the first homes and employment in the New World for most of these emigrants. It was later that some of them came to find a new home in Spencer.
After their arrival here, many found the farms they had come to buy, though large in acreage, were depleted and very run-down. Some had been vacant for several years so the buildings had deteriorated noticeably. Farms that were occupied, many by elderly owners, had been sold because their children had left for better paying jobs elsewhere. The heavy farm work could no longer be managed without help."
Browse similar collections