Cover Image: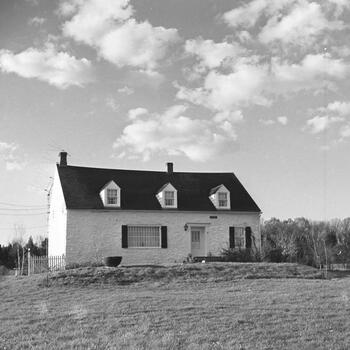 Historical Context
Erma DeWitt was born on September 27th, 1907. Though originally from Long Island, she eventually moved to New Paltz, NY, where she met her husband Dr. Virgil DeWitt. Erma was a trained nurse and professional photographer. She loved photographing wildlife, children, and the historic stone houses across Ulster County. Erma also helped out New Paltz High School and Normal School by taking the photos needed for their yearbooks.
Erma died in her home on March 17, 1999 at the age of 91. Erma expressed a dream that one day her photographs would be published. Due to a generous donation made by her son, Dirk, that dream has come true.
Scope of Collection
This collection contains Erma Dewitt's photographs, primarily taken during the 1940's and 50's. Among these photographs are her images of historic stone houses across Ulster County. The collection also includes portraits of local residents, images of events, and some of the yearbook photos Erma took for New Paltz High School.
---
Browse within this collection
Browse similar collections