Robert Montgomery Collection
Cover Image: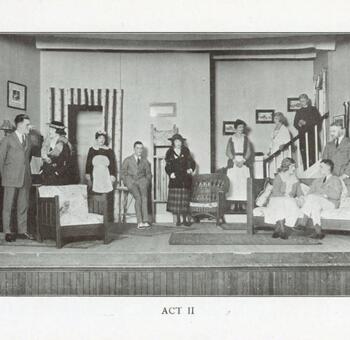 Historical Context
Robert Montgomery was a famous actor, director, and producer who attended Pawling School (later renamed Trinity-Pawling) from September 1919 through June 1921. Montgomery made his acting debut while attending Pawling, playing the part of Mrs. Ralston in the play, "Nothing But the Truth," presented on February 5, 1921. Although little has been written about Montgomery's early life, it is known that he was born in Beacon, New York in 1904. Robert's given name was Henry, named after his father, Henry Montgomery, Sr. While enrolled at Pawling School he excelled in poetry, participated in sports, joined the Glee Club and Drama Club, and was recognized as a leader by his peers. In 1924, just three years after leaving the school, he set off for Broadway, landed acting roles, and was noticed by motion picture conglomerate, Metro-Goldwyn-Mayer. After subsequently being offered a contract by MGM, he headed off to Hollywood, where he became a famous movie star. His career was multi-faceted and included acting, directing, and producing as well as serving four terms as President of the Screen Actors Guild.
Scope of Collection
This collection documents Montgomery's acting debut as well as many other aspects of his life at Trinity-Pawling School. It includes images and documents relating to Montgomery's debut play "Nothing but the truth," as well as his other school activities. The collection also contains images of his star on the "Hollywood Walk of Fame" in California.
---
Browse within this collection
Browse similar collections