Theodore Roosevelt Inaugural Site Foundation
Logo:
641 Delaware Avenue
Buffalo, NY 14202
Phone: 716-884-0095

About
The Theodore Roosevelt Inaugural Site Foundation is a locally-based, registered non-profit organization that manages the day-to-day operations of the Theodore Roosevelt Inaugural National Historic Site under the auspices of a cooperative agreement with the National Park Service. The historic collection is fully-owned and maintained by the Foundation.
Currently, the Foundation's collection consists of approximately 6200 objects and helps to tell the story of Buffalo's 1901 Pan-American Exposition, William McKinley's assassination, and Theodore Roosevelt's presidency, including his unusual inauguration in the home of Buffalo's Ansley Wilcox. These artifacts recall a turning point in history and hold great importance for not only the local community, but also for a national/international audience. Theodore Roosevelt's 1901 inauguration, which took place in the aftermath of tragedy, demonstrates the resilience of the American nation and its constitutional democracy. It also marks the start of what has been termed the first modern presidency.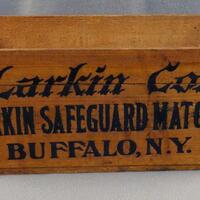 Charles Rand Penney was a prominent collector. The Charles Rand Penney Trail unites his collections of Pan-American Exposition souvenirs, Papua New Guinea artifacts, Niagara County historical items, Larkin Company ephemera, and Niagara Falls artwork.
Collection of material relating to the Pan-American Exposition, held in Buffalo, NY from May 1 – November 1, 1901.