SUNY Buffalo State - Butler Library
Logo:
Parent Organization: SUNY Buffalo State Department: Archives & Special Collections
1300 Elmwood Ave.
Buffalo, NY 14222
Phone: (716) 878 6300
Fax: (716) 878-3134
About
Butler Library has more than 675,000 printed books, over 174,000 electronic books, and access to full-text articles from over 57,000 unique print and electronic journals. Having access from any computer or wireless Web device, any time of the day or night, helps patrons to do their research more effectively.
The Archives house various college publications, scrapbooks, memorabilia and statistics from 1860 on, as well as college annual reports, budgets, and salary information.
The Butler Library's Special Collections include scores of unique collections of local history, regional interest, and national significance.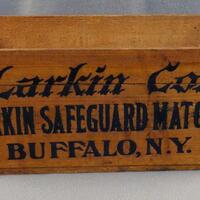 Charles Rand Penney was a prominent collector. The Charles Rand Penney Trail unites his collections of Pan-American Exposition souvenirs, Papua New Guinea artifacts, Niagara County historical items, Larkin Company ephemera, and Niagara Falls artwork.