Skaneateles Historical Society
Logo:
28 Hannum Street
Skaneateles, NY 13152
Phone: 315.685.1360

About
The Skaneateles Historical Society was founded in 1961 and chartered by New York State in 1968. Our mission is to conduct and encourage historical research and to collect, preserve, and exhibit historical material in connection with the Town of Skaneateles.
Housed in a former Creamery building that opened in 1899 as a place for local farmers to sell their milk and for residents to buy dairy products, the Museum at The Creamery has expanded to include a Connector Wing and Boat Museum, highlighting Skaneateles-built boats. Other displays include an interactive lake model, local industries, teasels, newspapers, and transportation.
Extensive materials are available for historical and genealogical research, including census and cemetery records, biographical files, subject files, photographs, post cards, scrapbooks, house histories, maps, books by local authors, and books on local history.
The Skaneateles Lake Collection documents various locations around the Finger Lake, illuminating the lake's significance to health practice, recreation, and the environment.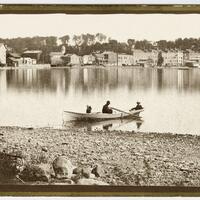 The Skaneateles Photograph Collection documents various areas within and around Skaneateles Village and Town through photographs, stereographs, and photographic postcards.