Niagara University - Castellani Art Museum
Logo:
Parent Organization: Niagara University
5795 Lewiston Road
Lewiston, NY 14092
Phone: 716-286-8200

About
The Castellani Art Museum serves as a cultural resource for Niagara University and its surrounding community and an attraction for regional and international tourists. Exhibitions of nationally known and emerging contemporary artists and traditional folk arts are presented each year. Artist talks, workshops and educational programming accompany each exhibition. Niagara County's only collecting art museum, the Castellani has a permanent collection of over 5700 works of art, including well known artists such as Picasso, Miro, Dali, Calder, Nevelson, Warhol and many others. Admission is always free.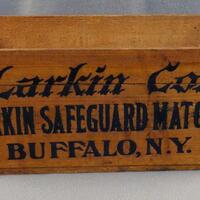 Charles Rand Penney was a prominent collector. The Charles Rand Penney Trail unites his collections of Pan-American Exposition souvenirs, Papua New Guinea artifacts, Niagara County historical items, Larkin Company ephemera, and Niagara Falls artwork.
Survive, Remember, Thrive | Armenian Traditions in Western New York preserves the traditions, memories, and stories of the local Armenian community through this audio interview collection and the original shortform documentary video series produced by the Castellani Art Museum of Niagara University.