Logo:
Department: Special Collections: Robert R.Coles L.I. History Room
4 Glen Cove Ave
Glen Cove, New York 11542
Phone: 516-676-2130
Fax: 516-676-2788
About
On August 7, 1894, the foundation of our present library was laid when 175 legal voters from School District No. 5 in the Town of Oyster Bay approved a resolution establishing the Glen Cove Public Library. According to its first annual report, published in 1896, the library was open three hours a week for the sole purpose of lending books from its collection of 1,572 volumes. At that time, the library contained no reading room. According to the terms of the original resolution, the library was housed in a wing of the Glen Cove High School building which had been built at the corner of Dosoris Lane and Forest Avenue in 1893. The library's location changed several times over the years, and in 1959, it eventually found its current home on Glen Cove Avenue. An expansion and renovation, designed by architect Herbert Beckhard, was completed in 2002.
In addition to the Coles family playing a major role in the library's founding, they were instrumental in the establishment of its renowned history collection, which is housed in the Robert R. Coles Long Island History Room. Robert R. Coles, the son of Carolyn and Franklin Coles, was one of the guiding lights of the History Room's founding, along with Alexander S. Van Santvoord and Peter L. Van Santvoord. Most of the items in the collection are directly related to Glen Cove and Long Island, with manuscripts, documents and maps dating back to Glen Cove's founding in 1668. The collection also includes treasured artifacts, documents and photos from Glen Cove's Gold Coast era when wealthy industrialists, such as Charles Pratt, J.P. Morgan, F.W. Woolworth and others resided in Glen Cove.
Historic postcards of Glen Cove, Long Island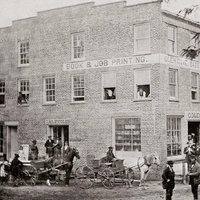 Photographs and descriptions of buildings in Glen Cove, Long Island.