Glen Cove Public Library Photograph Collection
Cover Image: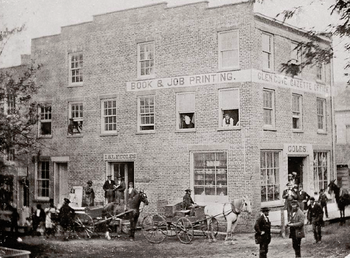 Historical Context
Glen Cove is a city in the north shore of Long Island. Glen Cove was used as a port by English migrants from New England and named "Moscheto" before 1668. On May 24, 1668 Joseph Carpenter of Warwick, Rhode Island purchased about 2,000 acres of land to the northwest of the Town of Oyster Bay from the Matinecock. In the 1830s, steamboats started regular service on Long Island Sound between New York City and Musketa Cove, arriving at a point still called "The Landing." By 1850 the village of Glen Cove had become a popular summer resort community for New York City residents. The Long Island Rail Road was extended to Glen Cove in 1867, providing quicker, more frequent service to New York City. The availability of the train and the town's location on Long Island Sound made it attractive to year-round residents, and the population increased. On June 8, 1917, Glen Cove became an independent city, separating from the Town of Oyster Bay after 250 years
Scope of Collection
The collection consists of historic photographs and descriptions of commercial buildings in Glen Cove, NY.
---
Browse within this collection
Additional Information
Scope and Content Source:
The History Collection of the Glen Cove Public Library contains a variety of library and archival materials: books; periodicals; artifacts; pamphlets; maps; microfilmed documents; records and manuscripts, and microfilm of local newspapers. Almost all of the items are directly related to Long Island history, in particular, to the history of Glen Cove and its surrounding communities.
Browse similar collections