Logo:
1 North Street
PO Box 167
Edmeston, NY 13335


About
The Edmeston Museum is physically located on the top two floors of the Edmeston Municipal Building (at the four corners of the rural town of Edmeston).  
The mission of the museum is to demonstrate the evolution of rural life in upstate New York using the historical account of Edmeston and surrounding areas.  Toward this end there are two floors of permanent exhibits including sections on archaeology, "home and hearth," prominent homes, Edmeston banking, Del-Co machinery (for electricity prior to rural electrification), agriculture, churches, schools, entertainment, business, toys, fire departments, the O & W railroad, and participation in military events from the Revolutionary War to present.  
Daily diaries written by Margaret Jones, a lifelong Edmeston resident. She worked in the rural schools of Edmeston for 51 years, despite having a physical condition that made speech difficult.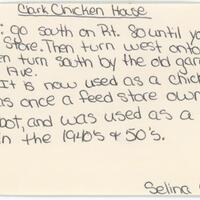 Photographs of local farms taken and annotated by students.