Didymus Thomas Memorial Library
Logo:
9639 Main Street
Remsen, New York 13438
Phone: (315) 831-5651

About
The promoter of a library in Remsen was Lydia Francis, daughter of Didymus Thomas.  She proposed to give to a library fund two dollars for every one dollar the town's people could raise.  They raised $700 and Mrs. Francis donated $1,400.  The first library was incorporated on December 21, 1899 and its first location was on the south end of Main Street over the drug store.
Upon the death of Lydia Francis in 1905, she bequeathed $60,000 to provide a building…In 1908 the cornerstone was laid for the present Didymus Thomas Library.  It is built of pressed brick and trimmed with Gouvenour marble.  The interior is beautifully finished with oak.  The cost of constructing it was $30,000.  The first librarian was Mrs. Jennie Jones.  
Today, the Didymus Thomas Library is a member of the Mid York Library System.  We have over 32,000 books, magazines, DVDs and CDs available for circulation, including a vast local history collection.  Remsen Library patrons also have access to all of the books in the Mid York Library System and many more eBooks and audio books on the Libby App.  We offer a variety of programs for our diverse patrons.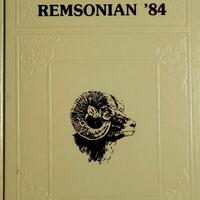 This collection contains 79 yearbooks from Remsen Central School and covers most of the years 1938-2021.