Clifton Park-Halfmoon Public Library
Logo:
475 Moe Rd.
Clifton Park, New York 12065
Phone: 518-371-8622
Fax: 518-371-3799
About
The Clifton Park-Halfmoon Library serves a population of approximately 56,000 in the towns of Clifton Park and Halfmoon. The mission of the Library's Local History Room is to collect, preserve, and make accessible materials that document all years of the history of the two towns.
In addition to artifacts, reference books, and a clippings file, we also hold two large archival collections on deposit: the Pre-Shenendehowa Schools Collection and the Town of Clifton Park History Collection. We also maintain the Library's own archival collection.
This collection includes historic photographs of school houses located in Clifton Park and Halfmoon.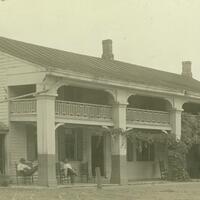 This collection contains photographs of the Clifton Park and Halfmoon areas, particularly their connections to the Erie Canal.
This collection includes photographs of the Town of Halfmoon dating back to the late 1800s.