The Claverack Free Library
Logo:
9 Route 9H
P.O. Box 417
Claverack, NY 12513-0417
Phone: 518-851-7120

About
The Claverack Free Library located in Claverack, NY. The mission of the Claverack Free Library is to be a vibrant presence in the community.
The library's History Room houses resources that pertains to the history of The Town of Claverack and its surrounding areas, The Claverack College, Columbia County and New York State.  Among the holdings are class photos from the Claverack School,  early editions and manuscripts from Delia VanDeusen, historical periodicals, vintage postcards. The library is home to an extensive collection of photos, ledgers, curriculum and ephemera from The Claverack College. The archival collections contain newspaper clippings, original documents, photographs, local history booklets, pamphlets, and local oral histories. The books are all cataloged and searchable online in the Mid-Hudson Library System.
Our collection of Digital History is made possible through the generous support of the Alexander and Marjorie Hover Foundation Inc.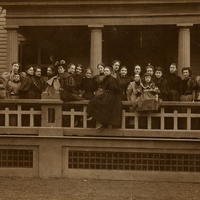 Postcards and photographs documenting Claverack College and Hudson River Institute, a coeducational boarding school in Claverack, N.Y.
Photographs and postcards relating to the history of Claverack, N.Y.