Logo:
100 Albany Street
Cazenovia, New York 13035
Phone: 315-655-9322

About
Since 1886, the Cazenovia Public Library Society has served the local community as not only a lending library of books, but as an educational destination for inquisitive minds. The Library has resided at 100 Albany St in Cazenovia since Robert J Hubbard gifted the building to the society in 1890. It was this move that allowed the library to take its new potential in stride.  When gifting the structure, Hubbard stated that the building was used as a lending library, but also  "for the purpose of gathering and preserving objects of art, curios, and papers of historic value, especially such as are of local interest." The 1996 addition created room for a local history collection space that has allowed the library to pursue its mission of strengthening community by engaging our history, connecting people, inspiring lifelong learning, and transforming lives.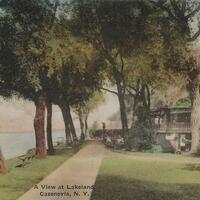 The Witherill Postcard Collection contains mailed and unmailed postcards of businesses, structures, and local scenes of Cazenovia, NY and its vicinity.