Buffalo Museum of Science
Logo:
1020 Humbolt Parkway
Buffalo, NY 14211
Phone: (716) 896-5200

About
The Buffalo Museum of Science, through collections, research, education and interpretation, provides opportunities for all people to develop a scientific understanding of the natural and cultural world with an emphasis on the Greater Niagara Region. The Museum challenges everyone to use their knowledge of science to enhance respect for each other and the environment. The Museum's Research Library holdings reflect the areas of the Museum's research including: anthropology, archaeology, astronomy, botany, geology, invertebrate zoology, museology, mycology, paleontology, and vertebrate zoology. The Museum receives over 400 journal titles each year and the collection covers the topics listed above, as well as science education, other museums' publications, and local and affiliated scientific society publications.
Snow crystal images and their associated documentation taken by Wilson A. Bentley in the late 19th and early 20th century.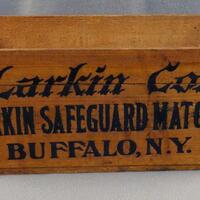 Charles Rand Penney was a prominent collector. The Charles Rand Penney Trail unites his collections of Pan-American Exposition souvenirs, Papua New Guinea artifacts, Niagara County historical items, Larkin Company ephemera, and Niagara Falls artwork.
The ground beneath our feet in western New York is ancient, some layers having formed over 440 million years ago. Each layer from the Queenston Formation (440 Mya) in the Niagara Gorge to the Olean Formation (295 Mya) along the Southern Tier has recorded the history of changing marine environments, preserved strange creatures, and bears witness to the uplift and formation of mountains and several mass extinctions.