Allegany County Historical Society
Logo:
11 East Greenwood Street
PO Box 252
Andover, NY 14806
Phone: (607) 478-5390

About
The Allegany County Historical Society is an educational organization which interprets the history of Allegany County, New York, by accepting, collecting and preserving artifacts, operating a museum, conducting educational programs, publishing material on the county, and encouraging others to preserve and protect the history of the county.
Yearbooks and ephemera from the Allentown Union School in Allentown, NY.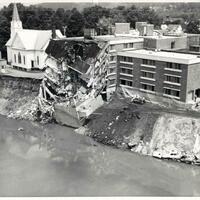 Photographs of Wellsville in Allegany County after the severe flooding caused by Hurricane Agnes in 1972.