Albert Wisner Public Library
Logo:
1 McFarland Ave.
Warwick, NY 10990
Phone: 845-986-1047

About
The Albert Wisner Public Library serves the Warwick Valley Central School District area in southeastern New York. The library maintains digital local history collections to serve the needs of those researching the history and community, and has partnered over many years with the archive of the Warwick Historical Society to facilitate access to a wealth of historical records.
The items here are a small sample of the larger Warwick Valley Heritage digital collections, which include two digital repositories containing photos, ephemera and scanned newspapers. They can be accessed at: http://guides.rcls.org/warwickvalleyhistory.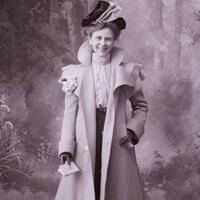 Glass plate negative portraits that provide a glimpse into Hudson Valley fashion at the turn of the 20th century.
Issues of the women's dress reform newspaper, The Sibyl, created by Lydia Sayer.