Logo:
Department: The Sage Libraries
45 Ferry Street
Troy, New York 12180
Phone: 518-244-2249

About
Russell Sage College was founded in Troy, New York, in 1916 by Margaret Olivia Slocum Sage and named in honor of her late husband, who had left her his considerable fortune. With Eliza Kellas, head of the Emma Willard School, Mrs. Sage was active in the women's suffrage movement; in founding the new College, they proposed to offer women the means of independence through the combination of broad education in the liberal arts with preparation for specific professional careers.
During World War II, an "emergency men's division" was created and in 1942 the first graduate degree was conferred. In 1949, an Albany Division was opened, offering two-year, four-year and graduate degrees under the charter of Russell Sage College and extending the College's mission to include the education of men on the second campus. The Sage Junior College of Albany received its own degree-granting powers in 1957. In 1995, the Sage Graduate School became authorized to grant degrees independently, the Sage Evening College became recognized as a separate administrative unit, and the institution was re-chartered by the Board of Regents of the state of New York as The Sage Colleges, often referred to for the sake of convenience as "Sage." The words "Russell Sage College" now refer only to the college for women. In 2001, the Sage Junior College of Albany and Sage Evening College were replaced by a single entity, Sage College of Albany.
The Archives contains the official records of The Sage Colleges, which includes Russell Sage College, Sage College of Albany, and Sage Graduate School. Access is by appointment only.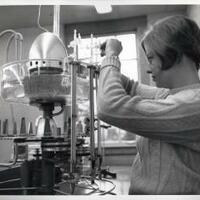 This collection contains photographs sharing the history of Russell Sage College.
This collection contains photographs of the Sage College of Albany, with a large portion of the collection taken in the 1970s when the college was known as Sage Junior College of Albany.