Chittenango Landing Canal Boat Museum
Logo:
717 Lakeport Road
Chittenango, NY 13037
Phone: 315.687.3801

About
On the State and National Register of Historic Places, Chittenango Landing Canal Boat Museum is a remnant of the rich history of the Erie Canal. Located on and within the Old Erie Canal Historic Park and the Erie Canalway National Heritage Corridor, the site sits at the intersection of the Historic Enlarged Erie Canal and the c. 1822 Chittenango Canal. Constructed in 1855, the interpreted site preserved and rebuilt a rare 3-bay dry dock. 19th century craftsmen used the site's three large, independently functioning bays to build and repair canal boats, maintaining and expanding this vital economic artery until the opening of the Barge Canal in 1918. Using archaeological techniques and historical information, scholars and enthusiasts preserved and recreated the site's rich history. The interpreted site includes the original dry docks and sluiceway, a canal-side store, a sawmill, boat shop, blacksmith shop, mule stable, a walk-on canal boat exhibit, sunken canal boat remains, a nature trail to a full-width aqueduct, picnic areas, access to the Erie Canalway Trail and a modern visitor center. The museum owns and studies an adjacent 27 acre property encompassing a portion of Clinton's Ditch, an early dry dock complex and an abandoned portion of the Chittenango Lateral canal.
Founded in 1985 by local citizens concerned with preserving heritage, the Chittenango Landing Canal Boat Museum is a wonderful source for historians as well as the public. Workshops, events and archaeological investigations explore the site's history and contribute to its on-going evolution. The museum hosts fall and spring school education programs allowing students to get hands on experience of archeological techniques and tools of the canal era. The CLCBM library and archives contain a variety of books, photographs, ephemera and other artifacts, both specifically related to the Chittenango site and to the broader social, technological and economic history of the Erie Canal.
The Chittenango Landing Historic Photograph collection represents a historical overview of Chittenango Landing and the surrounding areas that had significant importance to the canal boat industry in the middle section of the Erie Canal.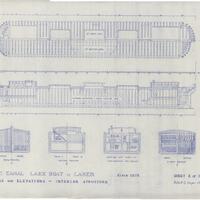 The Robert E. Hager Canal Boat Diagrams collection includes drawings of construction plans of canal boats used on the Erie Canal throughout the nineteenth century.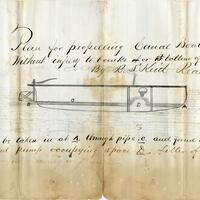 The Great Steamboat Race Letters collection features contest entries that proposed innovative designs for steam powered canal boats.