Cover Image: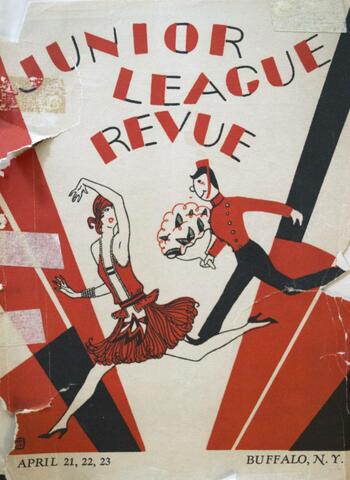 Collection Facts
Dates of Original:
c. 1930 - 1945; 1997 - 2015; 1950 - 1965
Historical Context
The Junior League of Buffalo (JLB) has been recognized as one of the premier volunteer organizations in Western New York for nearly 100 years. In collaboration with community agencies and organizations, the JLB provides volunteers and funds to create projects designed to close the gap in critical community services. Through training, its members are equipped with skills that enable them to move beyond the organization and become community and civic leaders.        On June 5, 1919 a meeting was held in the home of Mrs. Seymour M. Knox (800 Delaware Avenue) to discuss bringing the Junior League to Buffalo. Sixty-seven women responded to the first roll call with Mrs. Nelson Taylor presiding. The first community collaboration was with Children's Hospital when the League donated $50 for sewing supplies.         Since that first donation, the JLB has made a practice of identifying needs in the community and earmarking human and financial resources in order to meet those needs in a measurable way. It is Junior League of Buffalo tradition to create initiatives and programs that are sustainable and will continue to positively impact the community for years to come. Over the past 96 years, the Junior League of Buffalo has provided thousands of volunteer hours to those initiatives and programs. Funding in the form of grants, large and small, now exceeds four million dollars.        As the JLB approaches its centennial celebration in 2019, the organization has continued to evolve and to recognize the changing dynamics within the community. Currently, members are focused on affecting change in the lives of female heads of households living in poverty. Through research, advocacy, partnering with local service agencies and dedicated financial resources, countless families in the community have been and will continue to be served.        The Junior League of Buffalo has more than 400 members. It is one of 296 Junior Leagues in four countries comprising the Association of Junior Leagues International, Inc. Additional information regarding the Junior League of Buffalo can be found on their website.
Scope of Collection
The collection includes many photographs depicting Junior League events and performances. Some of the photographs are portraits of prominent members. The Junior League of Buffalo is known for presenting a Decorator's Show House in collaboration with the Buffalo News; many photographs and documents relate to these events. There are scanned images of many awards and certificates presented to the JLB. In addition, there are invitations, promotional materials, and even a book produced by the JLB. The collection spans almost a century, the entire lifespan of the organization from the early 20th century to present day.
---
Browse within this collection
Additional Information
Scope and Content Source:
Browse similar collections