James B. Preston MD Collection
Cover Image: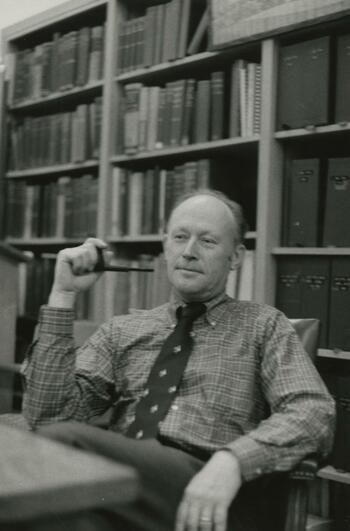 Collection Facts
Dates of Original:
1945 - 1993
Historical Context
Dr. James B. Preston (1926-2004) was a renowned neurophysiologist. Dr. Preston attended Ohio Wesleyan University from 1944-1945. His education was interrupted by military service. He served in Korea from 1945-1947 as a member of the Army Signal Corps and then as a medic stationed on the 38th parallel. When he returned, he attended Ohio Wesleyan for another year and then enrolled at the University of Cincinnati College of Medicine where he received his M.D. in 1952. He spent the next two years in a combined internship-research fellowship at the University of Illinois College of Medicine. In 1954 Dr. Preston was hired as an instructor at the SUNY Upstate Medical University, and in 1956 he was named an assistant professor at Upstate. In 1960 at the age of 34, he was promoted to a full professor and chairman of the Department of Physiology where he remained for 31 years before he retired in 1991. In 1992 he became a professor emeritus at the SUNY Upstate Medical University.
Dr. Preston's scientific research centered on investigations into the neural basis of the control of movement. His contributions to neurophysiology are fundamental to our concepts of how the brain controls movement. Over the course of his career, he published over 40 research based articles in his field. His research was continuously funded by the National Institute of Health for over thirty-two years. Many of his graduate students and postdoctoral students went on to distinguished academic careers in the area of neural science. For over forty years, medical students benefited from his instruction. Preston served on numerous national and state committees including: Chairman, Physical and Molecular Biology Evaluation Conference-NIH, DRG (1968); Chairman, Physiology Training Committee-NIGMS,NIH (1971-1973); Chairman, Working Group on Pharmacology, National Advisory Committee on Multiple Sclerosis-USPHS (1973-1974); President, Association of Chairs of Departments of Physiology (1973-1974); Chairman, Subcommittee on Chemotherapeutic Agents, National Multiple Sclerosis Society (1975- 1980); Chairman, Sponsored Research Advisory Committee, Research Foundation, SUNY (1982-1986); Conference Chair, Winter Conference on Brain Research (1987-1988); Director, Winter Conference on Brain Research (1989-1991).
Scope of Collection
This collection contains photographs from James B. Preston, who was a Professor of Physiology at SUNY Upstate Medical University in Syracuse, NY.
---
Browse within this collection
Browse similar collections