Ed Crasky Montauk Air Force Station Photographs
Cover Image: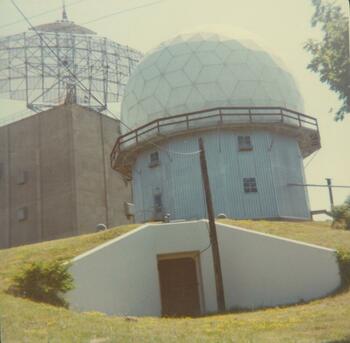 Historical Context
Edwin "Ed" Crasky was born June 27, 1914, in Erie, Pennsylvania. During World War II, Edwin served as private first class with a company of the United States Army's 113th Infantry. His company lodged at Miankoma Hall in Amagansett, where they patrolled the beaches for Germans approaching by sea. While stationed on the East End, Ed met Josephine Stella. They married in 1942. After the war, Ed and Josephine remained in Amagansett and had a daughter Sheila. Later, Ed worked as a boiler fireman at the Montauk Air Force Station for 35 years. Ed passed away in 1996.
In 1942, the United States Army established Camp Hero as a coastal defense station disguised as a fishing village. Its location was selected to prevent a possible invasion of New York from the sea during World War II. The camp is named after Major General Andrew Hero, Jr., the Army's commander of coastal artillery, who died in 1942. Camp Hero was designated inactive by 1947 and much of the original batteries were removed. In 1951, the U.S. Air Force 773rd Air Control & Warning Squadron occupied and operated the base as one of the first permanent radar defense networks. The Montauk Air Force Station operated from 1951 to 1981. In the 1980s, a portion of the land was deeded to the State of New York with 30 acres designated to the Town of East Hampton for moderate-income housing. In 1984, the National Parks Service transferred the remaining 278 acres to New York State. Camp Hero opened as a state park in 2002.
Scope of Collection
The collection of 37 digital images documents the Montauk Air Force Station 773rd Radar Squadron. The photographs were taken by Ed Crasky in September of 1980. The photographs capture the architecture and landscape of the base, including the signage, buildings, radar towers, bunkers, batteries, theater, housing, commissary, gymnasium, NCO club, and the Montauk Lighthouse. The collection may be of interest to researchers interested in Montauk, Camp Hero, World War II, military history, military architecture, historic preservation, abandoned buildings, state parks, and land reuse. The collection was brought into the library in 2014 by Josephine Crasky, scanned by the archivist, and the originals were returned to the donor.
---
Browse within this collection
Browse similar collections