Abby and Will Csaplar Lake George Collection
Cover Image: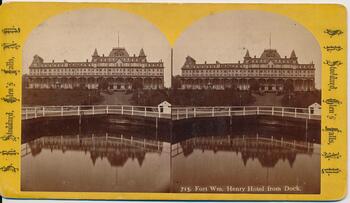 Collection Facts
Dates of Original:
c. 1870 - 2010
Historical Context
Abby and Will Csaplar met in the 1950's on Silver Bay in Lake George and have vacationed there ever since. Their passion for the Lake led to an incredible collection of Lake George images-including stereoviews, post cards, photographs-as well as souveniers and ephemera. Lake George is located in the Champlain Valley watershed along the southeastern portion of the Adirondacks. Its natural beauty and important role in the early history of our country have made it one of the most popular vacation destinations in New York State.
Scope of Collection
This collection contains images of Lake George found in stereoviews, postcards, photographs, maps, publications and ephemera collected over 20 years by Abby and Will Csaplar and donated in 2012.
---
Browse within this collection
Additional Information
Scope and Content Source:
Browse similar collections