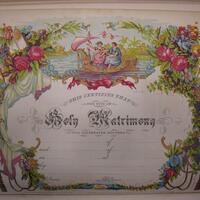 This collection contains an index of Family Bibles.
Historic holiday and birthday greeting cards.
The Maurice Leyden Collection consists of diaries, photographs, correspondence, financial records, essays and military records of Maurice Leyden. The collection also includes twenty-two diaries, dating from 1860-1886 and written Sarah Woodruff Pottle, a relative of Mr.