The photographs include a number of street views and houses in Delhi, New York. Also included are a number of images of the Frank Farrington home on Elm Street, with pictures of his family. A series of images of a military camp appear to date from 1919 in Camp Lee, Virginia.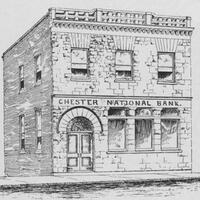 This collection consists of pages from the 1895 "souvenir" book called "Sketches" that Estabrook created.
This collection features photographs taken by Ernest Blue in the Fulton Chain Lakes region around 1900.