Tupper Lake Public Library Photograph Collection
Cover Image: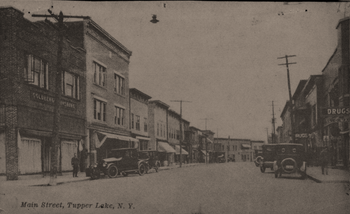 Collection Facts
Dates of Original:
1889 - 1997
Historical Context
The area around Tupper Lake was first settled in 1844, and since very soon thereafter it has served as a major lumber producer in New York State.
Scope of Collection
This collection of photographs shows a wide variety of persons, natural landmarks, buildings, and other images of Tupper Lake and the surrounding area, dating between 1889 and 1997. Included in this collection are many images showing the logging industry, including horse drawn sleds, trees being felled, lumber camps, lumber mills, and Lumberjacks. Local landmarks such as hospitals, churches, railroad stations, and hotels are included.
---
Browse within this collection
Browse similar collections